Safety Information and Reporting
Staff Training
Our staff receives training through Public School Works.
HARASSMENT, INTIMIDATION, OR BULLYING
North College Hill City Schools is fully committed to curbing student bullying and school violence, and providing a positive learning environment for all students that enhances personal safety and promotes respect, dignity, and equality among students. We believe our schools play an important role in helping faculty, staff and parents prepare students to be respectful and responsible citizens.
As part of our commitment, the district is initiating a new, integrated program, developed by former school officials, that provides:
Online and telephone reporting tools for students, parents and staff.
Student training regarding the need to speak up about safety and bullying issues.
Staff training in recognizing and responding to incidents of bullying and violence.
Administrative systems to manage incidents and document district and school response to reported concerns of bullying or violence.
North College Hill City Schools will make every effort to handle and respond to every charge and complaint filed by students, parents and employees in a fair, thorough, and just manner. Also, every effort will be made to protect the due process rights of all victims and all alleged perpetrators.
New Student/Parent Hotline!
Students who believe they have been harassed, bullied, victimized by fellow students, or have other concerns which may jeopardize the safety of students, employees or school facilities, are asked to
Speak Up!
and promptly report the issue using our district's new student/parent Hotline – accessible both online and by telephone.
Options to report an issue
1. Call 1-866-listen2me (1-866-547-8362) and talk with a live attendant. When the student talks with the live attendant, he/she has the option of being forwarded to one of the following national hotlines:
911 Urgent response
National AIDS Hotline AIDS / HIV
National Runaway Switchboard Homeless - Runaway
NINELINE Hotline Relationship issues - peer/parent; alcohol/drug abuse
RAINN Sexual assault; domestic violence; physical abuse
Suicide Crisis Center Suicide
2. Call 1-866-listen2me (1-866-547-8362) and leave a voice message.
3. Click the button below to access reporting features online and by telephone.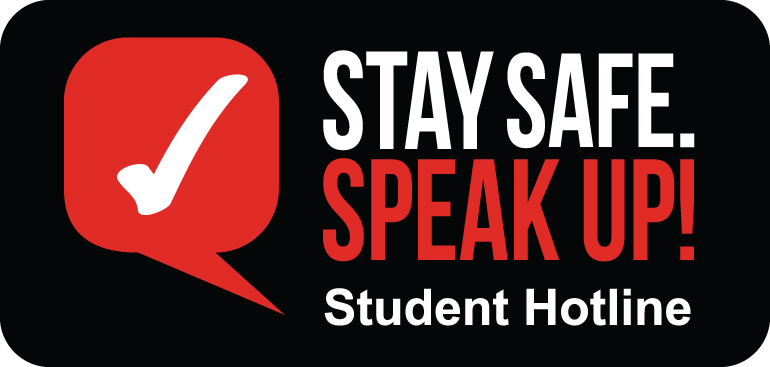 NCH SAFE SPOT
North College Hill City School Safe Spot (NCH Safe Spot) is a district initiative to provide a safety net for students who are in danger or need help from an immediate threat from strangers and/or friends (i.e. physical violence, child abuse/neglect, fear of abduction, and bullying). Click the logo below to access more information.
Summary of Reported Incidents
On February 1 and June 1 of each school year, the principal from each school building shall provide the Board President with a
written summary of all reported incidents
of harassment, intimidation or bullying. To the extent permitted by State and Federal privacy/confidentiality laws, a summary of reported incidents shall be posted on the website of the Board of Education concurrent with each report to the Board President.